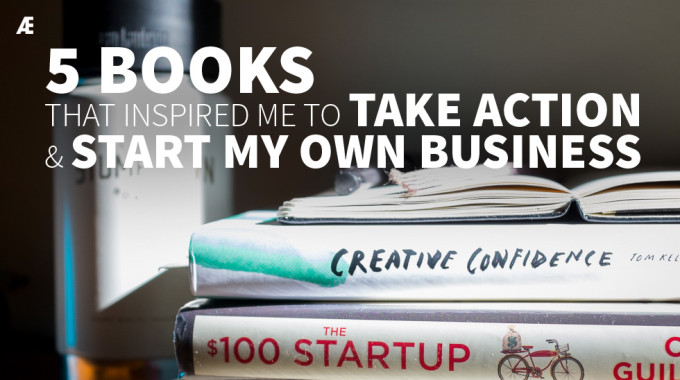 We are now a few weeks into 2015 and I hope that your year is off to a great start. January is always an exciting time as we look forward and set new goals. For me, it is also a time of self-reflection as I look back and review the past twelve months.
A Year of Transformation
One year ago, I was struggling to not only find work, but to find purpose. While I knew that my truest passion in life was helping artists succeed, I had no idea how to go about doing that. And because I didn't have a community to turn to for help, I felt isolated and alone.
Since then, my entire life has transformed. With the launch of People's Pop-Up and now Arts Entrepreneurs, I have found my purpose and am doing work that I believe in. More importantly, a community is beginning to take shape and I can see that I am starting to help artists along their way.
While my business is a far cry from financial success, the personal rewards I get from doing the work are what matter most. I am extremely grateful to be where I am today, writing this blog and recording this podcast.
Five Books I Recommend
On that note, I thought I'd share five of my favorite books from 2014. I attribute many of my life changes over the past year to these books (and the shifts in perspective that resulted from reading them). They are what inspired me to take action and start my own business.
So if you're in need of some inspirational, action-oriented reading, I recommend checking them out. I hope they help you follow through with whatever goals you've set for 2015. Enjoy!
1. Creative Confidence by Tom Kelley and David Kelley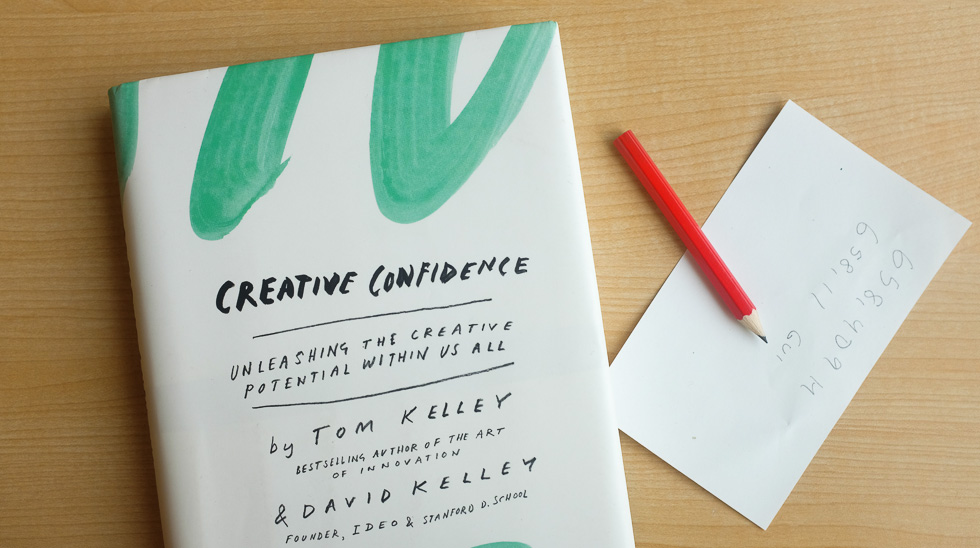 Pablo Picasso famously said, "Every child is an artist. The problem is how to remain an artist once we grow up." Creative Confidence is a book for those of us who have lost our innate ability to create. Written by Tom and David Kelley, brothers and founding partners of the renowned design firm IDEO, Creative Confidence helps "unleash the creative potential within us all."
As a guitarist, I always felt that my creativity was limited to music — that was, until I read this book. Creative Confidence taught me that I had been undervaluing my own potential; that the skills I had developed as a guitarist were transferrable to any discipline or field. More importantly, it encouraged me to look beyond music for inspiration.
When you're looking for inspiration… in order to have a breakthrough, you have to look outside your industry. — David Kelley
With creative confidence, I stopped limiting myself to jobs in music and the arts, and instead, focused all of my time on learning how other industries operate. The insight I gained from researching online business and tech startups is what sparked the idea for People's Pop-Up.
Creative Confidence: Unleashing the Creative Potential Within Us All (Amazon affiliate link)
2. $100 Startup by Chris Guillebeau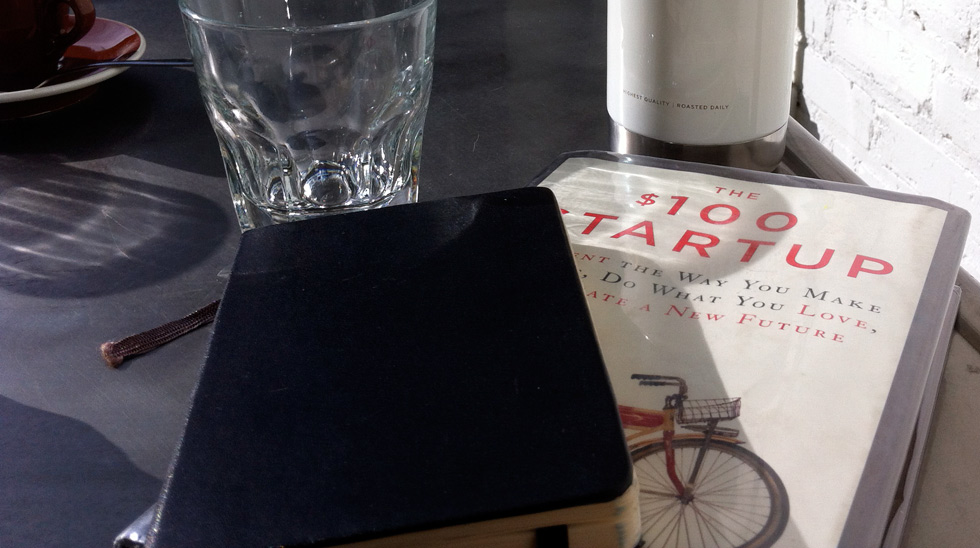 Not all startups need to be the next Uber or Gimlet Media. In fact, startups come in many shapes and sizes. In $100 Startup, writer and entrepreneur Chris Guillebeau shares fifty case studies of ordinary people who have started extraordinary businesses — all for $100 or less.
From a mattress delivery service by bicycle to an online management platform for music teachers, the book highlights success stories of entrepreneurs who have found the sweet spot between their own passions and other people's needs.
…Where passion or skill meets usefulness, a microbusiness built on freedom and value can thrive. — Chris Guillebeau
$100 Startup made me realize that when it comes to starting a business, there is no one-size-fits-all model. It proved to me that I didn't need a MBA or one million dollars in seed money to have a chance at success — I just needed to find existing problems and commit to solving them.
If it weren't for this book, I wouldn't have had the guts to become an entrepreneur. $100 Startup gave me the courage to follow through with my ideas. It's what fired me up to start People's Pop-Up.
$100 Startup: Reinvent the Way You Make a Living, Do What You Love, and Create a New Future (Amazon affiliate link)
3. The War of Art by Steven Pressfield
A few weeks ago, I mentioned Steven Pressfield in this post and chances are I'll be referring to him and his essential book The War of Art, many times in the months ahead.
If ever there was an instruction manual on how to maintain one's artistic practice, The War of Art would be it. Why? Because it tackles the one issue all artists face — resistance.
According to Steven Pressfield, "Resistance by definition is self-sabatoge." It's that voice inside your head that prevents you from getting anything done; from doing the work you need to do.
Resistance and this book: What finally convinced me to go ahead was simply that I was so unhappy not going ahead… As soon as I sat down and began, I was okay. — Steven Pressfield
Coming up with the idea for People's Pop-Up was easy, but following through with it was one of the toughest challenges of my life; mainly because I was battling resistance the entire way.
For me, resistance wasn't a lack of working hard — it was working hard on the wrong things. I spent four months trying to perfect the website before emailing a single artist or venue to help me launch my pilot program. I was resisting moving forward because I was afraid of failure.
Reading The War of Art, I realized that the only way I could fail was by not moving forward; by not shipping the website I had worked so hard to create. With Steven Pressfield's book, I finally stopped spinning my wheels and launched People's Pop-Up (albeit, two months behind schedule).
The War of Art: Break Through the Blocks and Win Your Inner Creative Battle (Amazon affiliate link)
4. Delivering Happiness by Tony Hsieh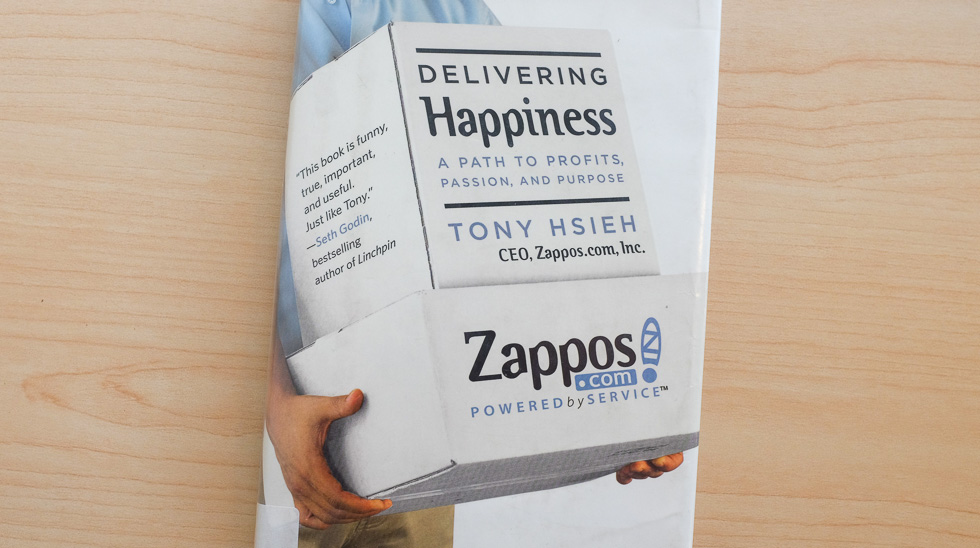 One of the biggest personal dilemmas I faced when I first entertained the thought of becoming an entrepreneur was that in doing so, I would no longer be an artist. I had convinced myself that "arts entrepreneurship" was an oxymoron because the ideals of one were so fundamentally different from the other. I didn't think it was possible to balance passion and profit until I read Tony Hsieh's autobiography.
In Delivering Happiness, Zappos CEO Tony Hsieh shares how placing a higher purpose at the core of Zappos' business model led to a mission-driven company culture, the disruption of an entire industry, and a $1.2 billion acquisition by Amazon.
What separates a good company from a great one is having a vision that has a higher purpose than money, profits or being number one. — Tony Hsieh
Delivering Happiness crushed my limiting beliefs by proving that it was possible to "have my cake and eat it too." Tony Hsieh's story and his unending pursuit of happiness inspired me to chase my higher purpose. It pushed me to not only find and serve my community, but to lead them. In essence, it planted the seed for Arts Entrepreneurs.
Delivering Happiness: A Path to Profits, Passion, and Purpose (Amazon affiliate link)
5. Tribes by Seth Godin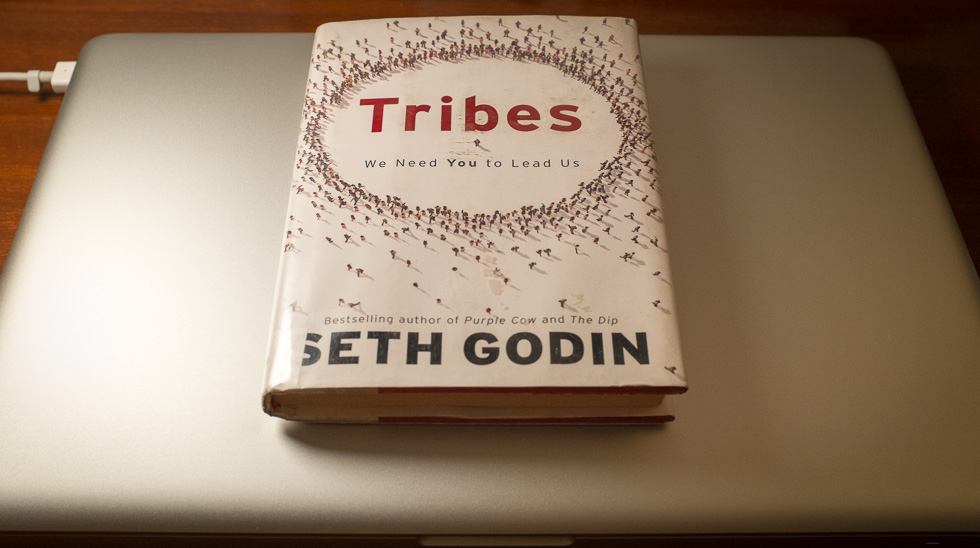 I've read a lot by entrepreneur and thought leader Seth Godin, but the one book that empowers me more than anything else he's written is Tribes.
Through a collection of short, blog post-like "chapters," Seth Godin concludes that thanks to the Internet, each of us now has the opportunity to become a leader — to build a tribe by connecting people through shared ideas and values.
Every tribe is different. Every leader is different. The very nature of leadership is that you're not doing what's been done before. If you were, you'd be following, not leading. — Seth Godin
Last November, it occurred to me that most artists (myself included) face the same challenge: When it comes to our passions, it is easy for us to define what we do and why we do it, but difficult to grasp how to do it.
And when this thought crossed my mind, I realized that I could do one of two things: nothing or something. Tribes inspired me to choose the latter — to start this blog and form a tribe.
The way I see it, the more us artists share about how we manage to do what we do, the better off we'll all be. Simply put, my goal with Arts Entrepreneurs is to build a community around the business of art.
Tribes: We Need You to Lead Us (Amazon affiliate link)
Now, It's Your Turn
What books have inspired you to take action? Do you have a favorite book from 2014? I'd love to hear your recommendations! Please share your thoughts in the comments section.
And if you're interested in reading along with me in 2015, feel free to subscribe to my book club. Once a month, I'll send you an email to share what's on my nightstand. Since I'm on a business and productivity kick at the moment, most of these books will probably be similar to the ones above (with a few curveballs thrown in for good fun).
###
Images: Philip Graulty / Arts Entrepreneurs