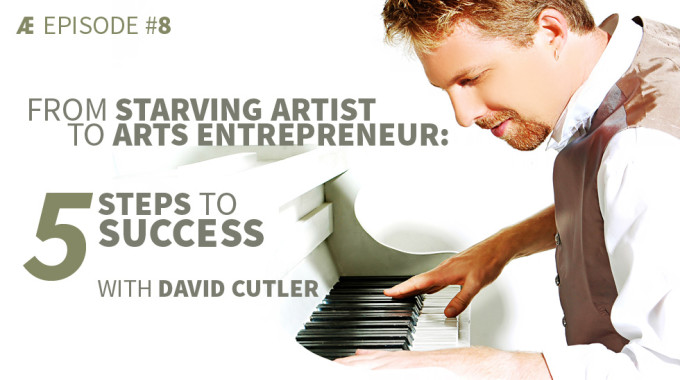 Podcast: Play in new window | Download | Embed
Hey everyone! Before you listen to today's show, I have a quick favor to ask: Arts Entrepreneurs launched its first crowdfunding campaign and it would mean so much to have your support. Here are four easy ways you can do that (two of them don't involve money):
Share this podcast and website with your network of artists.
Leave an honest review on iTunes.
Share the campaign with people who can invest in the future of Arts Entrepreneurs.
Invest in the future of Arts Entrepreneurs yourself!
My goal with this campaign is to raise $5,000 to:
Offset some of my fixed costs (web hosting, podcast hosting, apps).
Invest in better equipment so I can produce more episodes at a higher quality.
Build a team of contributors who can write informative and inspiring articles.
View the crowdfunding campaign and watch my 3-minute video pitch.
Thank you all so much!
Today's guest is David Cutler. David balances a varied career as a jazz and classical composer, pianist, educator, author, blogger, consultant, speaker, advocate and entrepreneur among other things. His book The Savvy Musician: Building a Career, Earning a Living, & Making a Difference was heralded by Jeffrey Zeigler of the Kronos Quartet as "Hands down, the most valuable resource available for aspiring musicians."
And over the past few years, he's taken the principles and methods outlined in his book and applied them to The Savvy Musician in Action, an intensive, experiential 5-day workshop designed to help arts entrepreneurs increase income and impact. The workshop takes place every summer at the University of South Carolina where David teaches and directs Music Entrepreneurship.
He's got a lot to share so be sure to take notes. Enjoy!
In This Episode, You'll Learn…
How an inherent need to be creative led David to find his voice in jazz and classical piano.
Why graduating from the top music schools wasn't enough for David to obtain success as a pianist.
Why earning a Master's degree was a moment of crisis, not celebration.
How David managed to build a career off of the skills he learned as a musician.
David's "i3″ formula for success — inspiration, income and impact.
David's five-step plan to becoming an arts entrepreneur.
The importance of prioritization and planning.
How to approach the topic of money and compensation as an artist.
How to create new opportunities in a culture of scarcity.
What a powerhouse topic is (and why you need one).
Why it's important to always considering your audience/customers.
What Savvy Musician in Action is all about.
What David feels the world desperately needs — creative leaders who can find new opportunities where others do not.
Links and Resources
Before You Go
Thanks again for listening to the Arts Entrepreneurs podcast! If this show has helped you in any way, please consider making a contribution at: artsentrepreneurs.com/support.
Thanks again to David Cutler for sharing his story with us — and to you for listening!
###