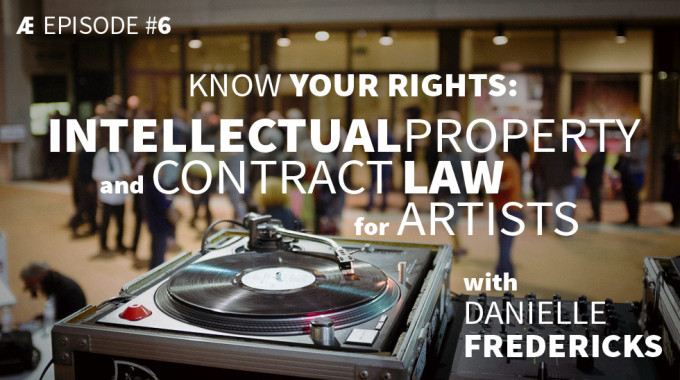 Podcast: Play in new window | Download | Embed
Today's guest is Danielle Fredericks, a Los Angeles-based attorney who provides legal services and education to independent artists and businesses through her firm ArtVenture Law. If you're unsure of how to protect your artwork and yourself, you'll definitely want to hear what she has to say.
In This Episode, You'll Learn…
What Danielle did to survive the rigors of law school.
Why every artist should have a contract (that means YOU).
The benefits of licensing vs. selling your art work.
What licensing agreements and copyright laws mean for DJs who sample music.
How to protect your intellectual property on the Internet.
How to balance exposure of your artwork vs. risk of copyright infringement.
The benefits of Creative Commons.
The differences between copyrights and trademarks.
Danielle's tips for creating paper trails to prove a copyright (and whether placing the "©" symbol on your work actually means anything).
When you know its time to get a trademark for your brand or product.
Why Danielle waited to trademark her business name.
If owning a domain name is enough to protect your brand.
Which business entities are best for independent artists.
The first step every artist should take to protect themselves and their work.
Danielle's recommendations for affordable legal advice.
Links and Resources
Before You Go
Have you ever had your intellectual property stolen? Or been the victim of copyright infringement? If so, how did you handle it? Please share your story – and the lessons you learned – in the comments section.
And if you have a moment, head on over to iTunes and leave an honest review – I'd love to hear what you think. The more reviews this podcast has, the better it will rank in iTunes and the easier it will be for other artists to find and benefit from it.
Lastly, if you know of someone that you'd like featured on the show (maybe even yourself), please send me a message on my contact page. Thanks!
###