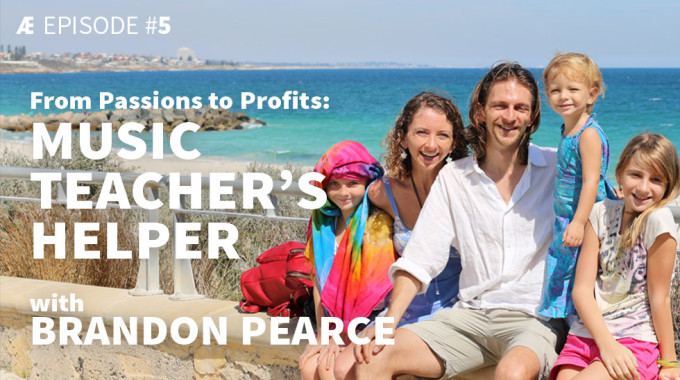 Podcast: Play in new window | Download | Embed
Today, we're traveling to Bali, Indonesia to chat with Brandon Pearce, a piano teacher turned computer programmer turned entrepreneur.
Brandon is the creator and owner of Music Teacher's Helper, a web-based software management system that helps music teachers run their own music studios.
Brandon started out by building Music Teacher's Helper for his own needs, but after realizing that there was a market for his software, he gave up teaching piano, quit his day job in tech support, and built an entire business around it.
Over the past eleven years, he has grown his company to the point where he and his family now have the freedom to live and travel anywhere in the world. And today, he shares with us how he managed to do that.
…Where passion or skill meets usefulness, a microbusiness built on freedom and value can thrive. — Chris Guillebeau
It's an incredible story, but before you click play, I want to apologize up front for the audio quality. Our Skype connection was faulty and as a result, some of the interview was lost and other parts are difficult to understand, but I hope you'll bare with it because what Brandon has to say about balancing business, passions, happiness and family is well worth hearing.
In This Episode, You'll Learn…
How Brandon combined his passions for music and computers into a thriving business.
Why Brandon decided to quit his job and pursue Music Teacher's Helper full-time.
How Brandon managed to get his first customers.
The importance of getting user feedback early on (and often).
Brandon's number one source for new customers.
How Brandon ended up scaling his business to the point where he could travel the world.
The importance of letting go and not micro-managing your team.
What happiness means to Brandon.
Brandon's advice for first-time entrepreneurs.
Links and Resources
Before You Go
Thanks again for listening to the Arts Entrepreneurs podcast! If this show has helped you in any way, please share it using the social media buttons you see on the page.
And if you have a moment, please head on over to iTunes and leave an honest review — I'd love to hear what you think. The more reviews this podcast has, the better it will rank in iTunes and the easier it will be for other artists to find and benefit from it.
Lastly, if you know of someone that you'd like featured on the show (maybe even yourself), please send me a message on my contact page. Thanks!
###