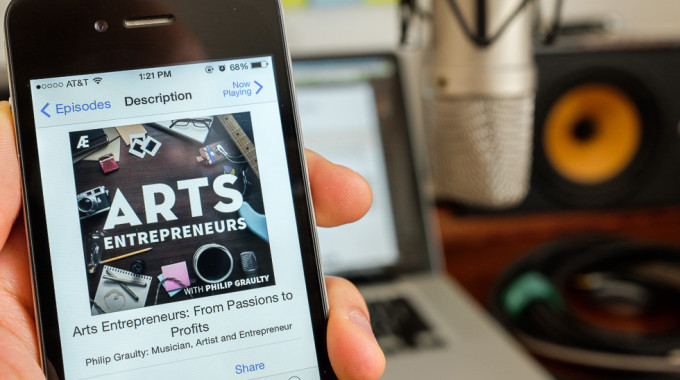 Most artists have a hard time asking for money. I'm one of them.
In fact, I was hesitant to launch a crowdfunding campaign for Arts Entrepreneurs because I didn't want to be that guy. You know, the guy who asks people for money? I hate that guy!
My Aha Moment
But as contributions started rolling in, it occurred to me that I wasn't just asking for money — I was offering people who care about the arts, the opportunity to join me on this journey.
And when I realized this, it finally made sense why crowdfunding is so effective: Crowdfunding has little to do with asking for money and everything to do with building your community. After all, money comes and goes, but a community lasts forever.
Because of this campaign, I no longer feel like a solopreneur. I no longer feel like I am traveling alone. I've now got dozens of supporters and thousands of listeners who are right by my side. It's amazing!
Let People In On Your Dreams
If you've been on the fence about crowdfunding simply because you're afraid to ask people for money, don't be. Crowdfunding is a way to let people in on your dreams. Like Scott Shigeoka said in Episode #4, "…the universe wants to support people that have dreams, that are fulfilling their missions and are alive… especially when they are doing things that serve community."
So if you have a dream, get it out there! Let people in! Ask for help!
Amanda Palmer: The Art of Asking
If You'd Like to Help Me With My Dream…
Producing a podcast is time consuming. On average, it takes me about 40 volunteer-hours a week to research, schedule, write, record, edit, market and manage the podcast and this website. Even at that rate, I am not able to deliver all of the content I want to create.
It is also expensive. My hosting and application fees hover around $55 per month and as our listenership grows, these costs will go up.
If this show has helped you in any way, please consider becoming a member at $25. Your contribution will keep this podcast and website going and as a member, you'll get access to our private Facebook group where you can network and talk shop with me and other artists like yourself. Simply click the button below to get started!